Mandate
AISC Mandate
Increasing awareness and educating Albertans about the destructive impacts invasive species have on the environment, economy, and society;  
Serving as a respected source of credible information and resources on invasive species in Alberta;  
Engaging and empowering Albertans to prevent, detect, and take action against invasive species.  

Vision
Vision
"Prevention inspired; Alberta protected"
is our vision.
We endeavor to foster partnerships with jurisdictions, agencies, and groups to develop integrated collaboration, long-term management programs, and to engage and empower people to take action against invasive species in Alberta.

History
History of the Council
The Council was established as a non-profit society in Alberta in 2006.
Initially called the Alberta Invasive Plant Council, the name was changed in 2013 to reflect a broader scope and to include all invasive species taxa.
Since that time, the Council has worked to protect Alberta from the impacts of invasive species.  
Become a Partner / Renew Your Partnership
Doug is a native of Barrhead where he grew up on a small farm and has always had a passion for both Agriculture and Biology. This interest brought him to the University of Alberta where he acquired a Bachelor's of Science Degree. Doug started his career with Agriculture and Forestry in 2001 where he gained experience in weed science, entomology, plant pathology, agriculture extension, agroforestry, grant programming, agriculture research and most recently working with the Agriculture Service Board Program. Doug loves the outdoors and on his days off can be found either tenting with his wife Melanie and their four children, gardening, studying insects, pulling invasive weeds or coaching cross country skiing.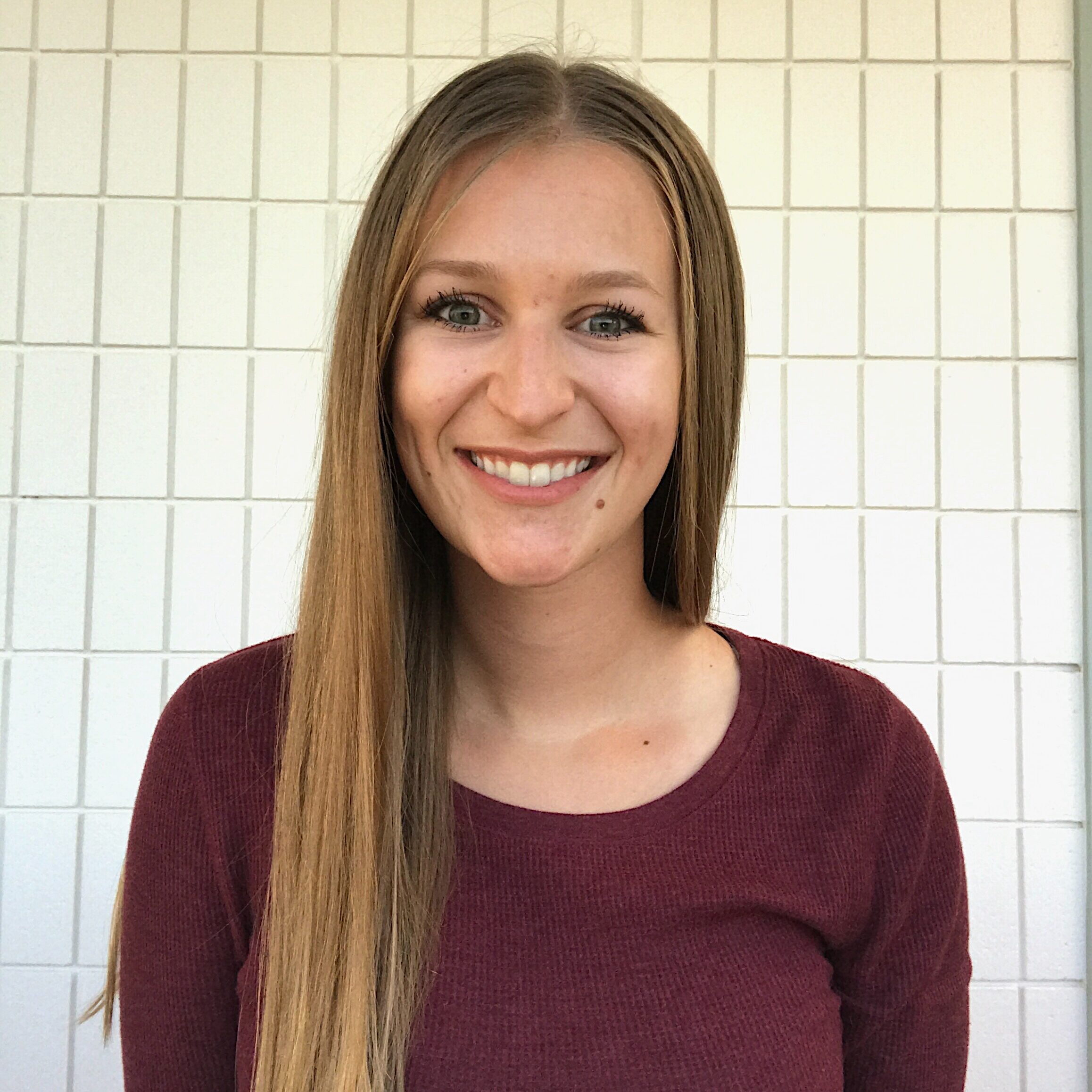 Farrah grew up in Special Areas 4, now she lives in Northern Alberta and works as the Vegetation Management Coordinator for Northern Sunrise County. She has recently completed her Bachelor of Science in Agriculture from the University of Saskatchewan in 2022. Her passion for protecting our environment from invasive species started when she became a Weed Inspector for Special Areas, she has continued to foster this interest as she develops her career as an invasive species manager. In University, Farrah did a project comparing the Weed Control Acts of Alberta and Saskatchewan that was published on the SAIFood blog, this means that she is also a bit of a legislation and policy nerd. Farrah hopes to bring her diverse perspectives from southeastern Alberta, Saskatchewan, and northern Alberta to the AISC board and is eager to help with developing new initiatives to get more people involved with invasive species education.
Sebastien is from rural Ontario and his interest in Agriculture began as soon as he could walk. This passion directed him to expand his knowledge at the Alfred College of Agriculture and Agri-Food Technology. In 1994, Sebastien left for northern Alberta, to start his career in the agriculture and forestry industry. From 2010 to 2021 he was an Agricultural Fieldman in Northern Sunrise County to now being a Councillor in the County of Two Hills and NE ASB representative. This opportunity leveraged his knowledge of weeds, entomology, agriculture production, agroforestry, and business management, he quickly found a deeper appreciation and keen interest in legislation, policy and board governance. While away from work, Sebastien appreciates spending time with his spouse Michelle on their farm in Willingdon, where he can be found working on machinery, upkeeping and renovating buildings, cropping and haying as well as reading more about legislation and parliamentary procedures. He also enjoys helping the local Agricultural Society as a board member. Proud (grand)father of two daughters and one grandson.
Connor is a native of Rocky Mountain House and graduated from Lethbridge College with a BASc in Ecosystem Management in 2020. He currently works for an environmental consulting firm, where he works on a variety of projects for upstream oil and gas clients. When he is not working, Connor can often be found in the foothills of the Rocky Mountains camping, fishing, and enjoying the outdoors.
Ashley has a B.Sc. in Environmental Science and is working as an Ecologist for Alberta Parks in the Northeast Region of Alberta, based in Lac La Biche. She has always had an interest in invasive species; however, being in this role has ignited the flame further. She currently represents Parks on the Provincial Aquatic Invasive Species Committee and has recently obtained her pesticide certification for Land use and Industrial applications, with a very strong interest in the Integrated Pest Management Approach.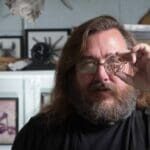 Mike Jenkins was born and raised in the Edmonton area, where he started off collecting caterpillars and ground beetles with his brother. While studying paleontology at the University of Alberta, he got a summer job in 1991 with the City of Edmonton splashing in puddles and counting mosquitoes. This led to more summers researching biological controls of mosquitoes, and the diversity of non-target organisms, as well as monitoring for invasive insect and disease species in the urban forest. In 2005 Mike became the supervisor of the city's Pest Management Lab, and later became the coordinator for all of Pest Management Lab and Operations, responsible for surveillance, monitoring and management of invasive insects, aquatic invertebrates, tree diseases and vertebrates for Edmonton.  
Todd is an import to Alberta from small town Manitoba, making his way westward after gaining a diploma in AgriBusiness in Brandon, Manitoba.
Selling fertilizer and chemical led him to a job with the County of Newell as the Assistant Agricultural Fieldman and later moving into the Director of Agricultural Services role, a role Todd has filled for 12 years.
Maintaining and containing weed and pest infestations continue to be the foundation of the Agricultural Services Department in Newell. The goal is to work with ratepayers to maintain a vibrant agricultural industry in the County of Newell.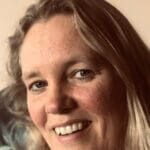 With a degree in Agriculture, and born and raised on a dairy farm, Atty has always had a passion for plants and animals. In her early career she has been involved with various agricultural crop research trials and worked closely with the local farmers and agfieldmen in central Alberta. After a while, she became a project manager and team lead at an Edmonton engineering firm called Wood (formerly AMEC). Here she learned to explore and observe the pristine beauty of the Alberta boreal forest, learned about rare plants, completed various vegetation inventories and reclamation assessments, wrote various environmental protection plans and acted as the company's weed specialist and clubroot pest management senior advisor. When she is not running around in the bush or local parks looking for weeds or rare plants, Atty loves playing soccer, and being involved with her teenage kids' hockey teams.
Darrell has been practicing rangeland management, private land conservation and agriculture work in Alberta and B.C for over the last 30 years.  Through Darrell's career, weed management has been an ongoing part of his work, whether it was coordinating treatments, educational outreach, analysing the data or being active in local regional weed partnerships.  Darrell is currently with Rangeland Conservation and Stewardship Section with Alberta Environment and Parks.
Laura holds both a Bachelor of Science Degree and a Teaching Certificate in Adult and Continuing Education from the University of Alberta.  She also holds a Diploma in Forest Technology for the Northern Alberta Institute of Technology as well as six Pesticide Applicator Certifications and a Pesticide Application Trainer Certificate.   Laura loves how this industry is used to teach and nurture many young adults into the working world.  Invasive species is a springboard subject that launches many people into various types of land and resource management.  Her past experiences include various forestry operations, chemical companies, municipal and provincial governments and private companies.  She is the former owner and now, General Manager of Cortex, an invasive species management company that works all over Alberta.  
Patrick is an associate professor in the School of Public Health at the University of Alberta. He is a parasitologist and immunologist by training and his research focuses on studying the interface between animals, parasites/pathogens and freshwater environments. This broad research focus often focuses on understanding three aspects of biology: the specific interactions that underpin host and parasite/pathogen compatibility, how populations of host and parasite influence each other within a freshwater ecosystem, and how species invasions can disrupt the balance between hosts and parasites. Patrick and his research group often approach these topics using multiple approaches that combine large-scale field surveys with large-scale spatial and temporal studies, molecular biology and specific host-parasite association investigations. In order to undertake these ambitious studies, Patrick and his team have relied on forming partnerships with Government of Alberta, non-government organizations, industry, education and community partnerships. These partnerships have coalesced into an incredible collaboration that advances research objectives, our understanding of important issues related to freshwater ecosystems in Alberta and promotes healthy aquatic ecosystems for all.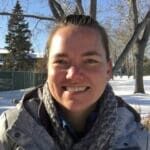 Nicole Kimmel Received a B.Sc. of Environmental Conservation Sciences from the University of Alberta in 2000 with a Specialization in Wildlife and Rangeland Sciences. She began working with Alberta Agriculture upon graduation, as a research assistant. Her work involved addressing weed management issues in forages and non-traditional crops. After 10 years in agricultural research, her role evolved to Weed Specialist, for an additional 7 years of employment. In 2018, she moved to Environment & Parks as the Aquatic Invasive Species (AIS) Specialist. There she coordinates the five elements of the AIS program, Policy & Legislation, Education & Outreach, Monitoring, Watercraft Inspections/Decontamination and Response. Nicole is approaching 20 years of service with the Government of Alberta.
Natalie is from Drayton Valley and holds a diploma in Conservation and Restoration Ecology from Lakeland College, a B.Sc in Agriculture from the University of Saskatchewan, and is currently attending the University of Alberta. She has spent her summers working to control invasive plants in forestry, oil & gas, and agriculture. Her interest in invasive species started with plants and has expanded into invertebrates and plant diseases. She is also passionate about protecting native species, especially species at risk, and integrated pest management, most notably biological pest control.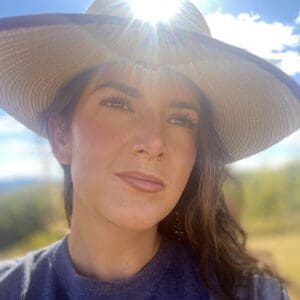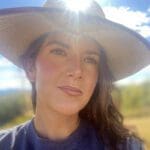 Lindsey was born and raised in Southern Alberta and has never strayed far from home. She completed her secondary education at Olds College and the University of Lethbridge where she graduated in 2011 with a bachelor degree in Agriculture.
Shortly after graduation, she began working for municipal government – notably, the M.D. of Pincher Creek and the Municipality of Crowsnest Pass. After nearly 10 years as an Agricultural Fieldman, she decided to pursue a new role, more closely aligned with her professional passion. In May 2022, Lindsey became the Natural Area Manager for the Waterton Park Front with the Nature Conservancy of Canada. Her career focus is the stewardship of working landscapes and building relationships within the ranching
community. Invasive species represent a significant threat to biodiversity and as such, remain a key component of her work.
Lindsey currently resides near Pincher Creek, with her husband, dogs and horses. When not advocating for the conservation of native habitat and wildlife, Lindsey can be found somewhere in the mountains, soaking up everything this amazing landscape has to offer.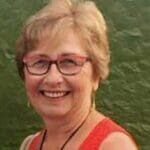 Jeannie is the co-owner of Aqualine Aquatic Plants & Waterfeatures, located in Sherwood Park, Alberta. Her mission is simple: promoting the growth of aquatic plants in Alberta, where the winter season is long and cold and the summer season is short but the daylight hours are long. She shares her passion for water lilies with her customers and delights in introducing them to the world of tropical water lilies. Jeannie is a director for the International Water Garden and Water Lily Society (IWGS) and the Colchester Agriculture Society.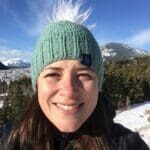 Hailing from Newfoundland with her teen years spent in a small New Brunswick town, Megan moved to Calgary in 2001. She soon decided that pursuing further education was the right path for her. Megan obtained a Bachelor's degree in Environmental Science and a Masters degree in Ecology both from the University of Calgary. Her first full time role working with invasive species was as an Invasive Plants Technician with Alberta Environment and Sustainable Resource Development. In this role Megan oversaw the invasive plant management program, developed a regional strategic plan, implemented education and outreach initiatives and worked closely with local stakeholders. She went on to oversee the regional Forest Health program, which involved survey and control of forest insects and disease and participating on the provincial whitebark and limber pine recovery team. During this time she was also a board member for the Alberta Invasive Species Council and the Entomological Society of Alberta.
Megan spent the last three years working as an Ecologist with Alberta Parks in southwestern Alberta where she established an invasive plant management strategy and a holistic in-house invasive plant management program, which included native seed harvesting, restoration work and an integrated approach to invasive plant management. Megan's interest in invasive species is rivaled only by her love of native bees, which is evident in her work with the Alberta Native Bee Council.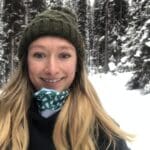 Born and raised in Edmonton, Paige has become a 'Jill of all trades' with invasive species. She graduated in 2017 with a Bachelor's degree in Biological Sciences from MacEwan University where she was first introduced to invasive species through efforts with multiple research projects with garlic mustard and forest tent caterpillars. Soon after, Paige started a position with Alberta Agriculture where she focused on a flowering rush control project and creating the coveted 'Aquatic Invasive Species Pocket Guide'. Basically went from a few invasives to the entire Alberta Weed Control Act and Fisheries Act! Since then, contracts as a Whirling Disease Technician and an Aquatic Invasive Species Technician have brought her all over the province for fieldwork as well as allowed her knack for creating punny education and outreach methods to grow. After four years working with the provincial government, she joined the AISC as a Social Media, Biocontrol Coordinator and Invasive Species Technician in 2021. She continues to foster her love of the outdoors and hopes to assist in educating and servicing Albertans through education on invasive species and their management.
Chelsea's love for wetlands and aquatic species (especially amphibians!) arose from an upbringing in Southern Ontario, surrounded by protected wetlands on a portion of the Ontario greenbelt. Moving to British Columbia in 2017, she completed her BSc in Natural Resource Conservation at The University of British Columbia, majoring in Science and Management. After working in a broad range of fields including fire ecology and wildlife biology, Chelsea was introduced to invasive species ecology while working with the Jasper National Park Restoration Crew in the summer of 2021. It was through her work with the restoration crew she found a passion for managing invasive species in aquatic ecosystems and learned about programs including Clean Drain Dry. Since moving to the west of Canada, Chelsea has also grown a love for outdoor recreation and is usually out rock climbing, skiing, trail running, or paddling.