Stay up-to-date with all the news and events the AISC has!
All events, news, job postings, webinars and more will be included on this page.
AISC Casino Fundraiser!
The AISC's next fundraising casino will be held on October 22 and 23, 2023 at Starlight Casino in Edmonton! These fundraisers are crucial to the AISC's financial sustainability of the organization. Volunteers working more than one shift must hold the same position and are required to have a government-issued ID with them during the event.
Please email info@abinvasives.ca with the date and times (only night shifts left!) you are available to help out!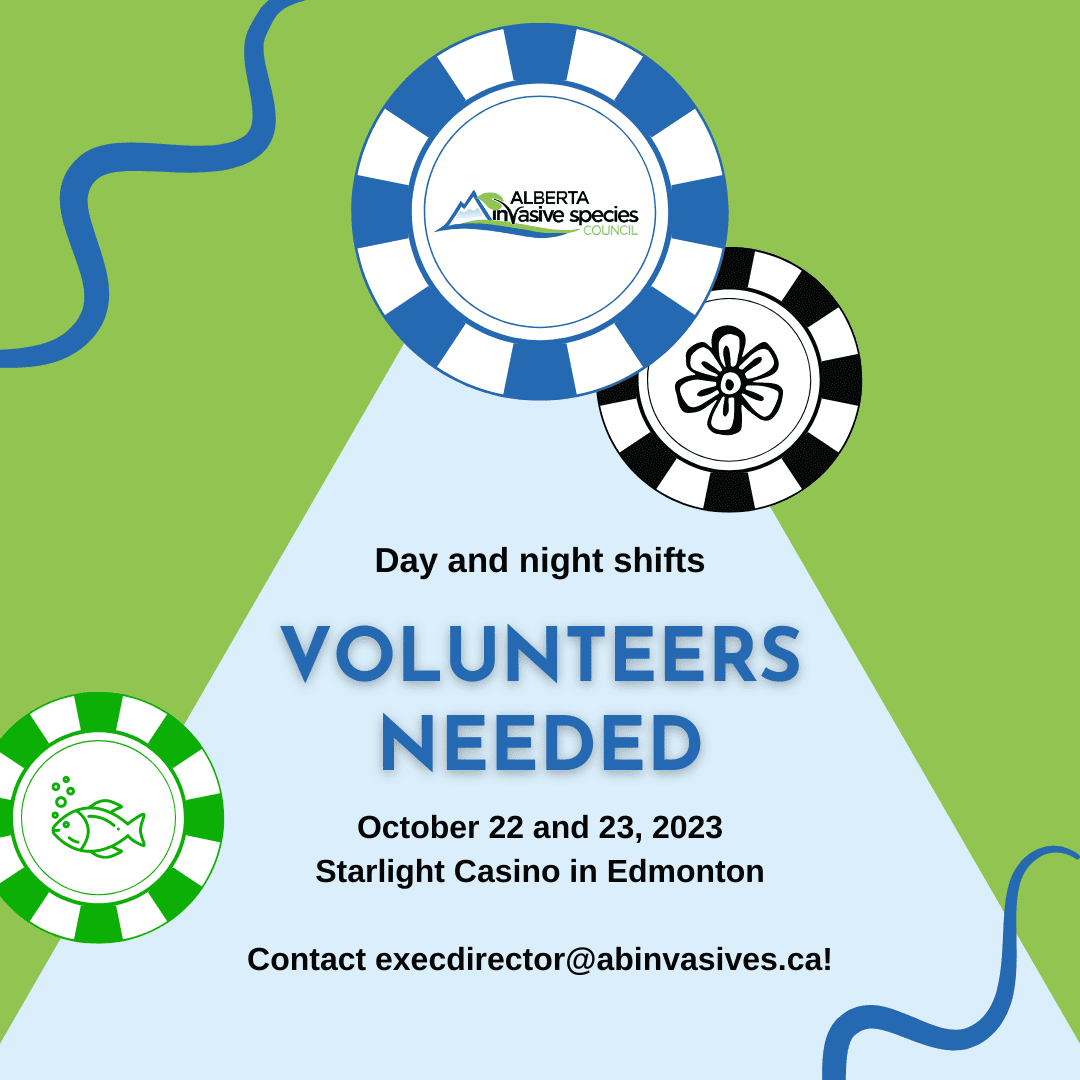 Job Posting: AISC Environmental Technician - Terrestrial Invasive Species
The AISC is looking for a terrestrial invasive species technician from September 2023 to September 2024 (with possibility of extension). This opportunity is full-time and will involve both remote office and field work - please review the job posting below for additional details. To apply please email a cover letter and resume as a single document to info@abinvasives.ca with 'Terrestrial Invasive Species Technician' as the subject line. Only those selected for interviews will be contacted.
Application deadline: September 4, 2023 at 5:00 PM.
The Alberta Invasive Species Council (AISC) Webinar Series is made possible by those who generously donated their AISC conference registration fees.
Previously presented webinars:
September 7th, 2022 webinar Don't Let it Loose Virtual Forum, presented by Nicole Kimmel with Alberta Environment and Parks.
Resources mentioned in the presentation:
May 11th, 2022 webinar 'Squeal on Pigs!' Virtual Forum, presented by:
Michael J Bodenchuk, Texas State Director, USDA APHIS WS
Dr. Ryan Brook, Associate Professor, University of Saskatchewan
Charlotte Shipp, Industry Programs Manager, Alberta Pork
Dawn Fortin, Manager Agriculture Services, Woodlands County
Jurgen Preugschas, Alberta Producer
Resources mentioned in the presentation:
May 13th, 2020 webinar Feral pig and rat eradication in Alberta, presentation by Perry Abramenko and Karen Wickerson with Alberta Agriculture and Forestry.
Powerpoint resources from this presentation:
Resources mentioned in the presentation:
If you see a rat, call: 310-RATS (7287), 310-FARM (3276), your local bylaw or agriculture fieldman, or email: 310rats@gov.ab.ca